World's first reusable coffee cup and travel mug made from recycled paper coffee cups.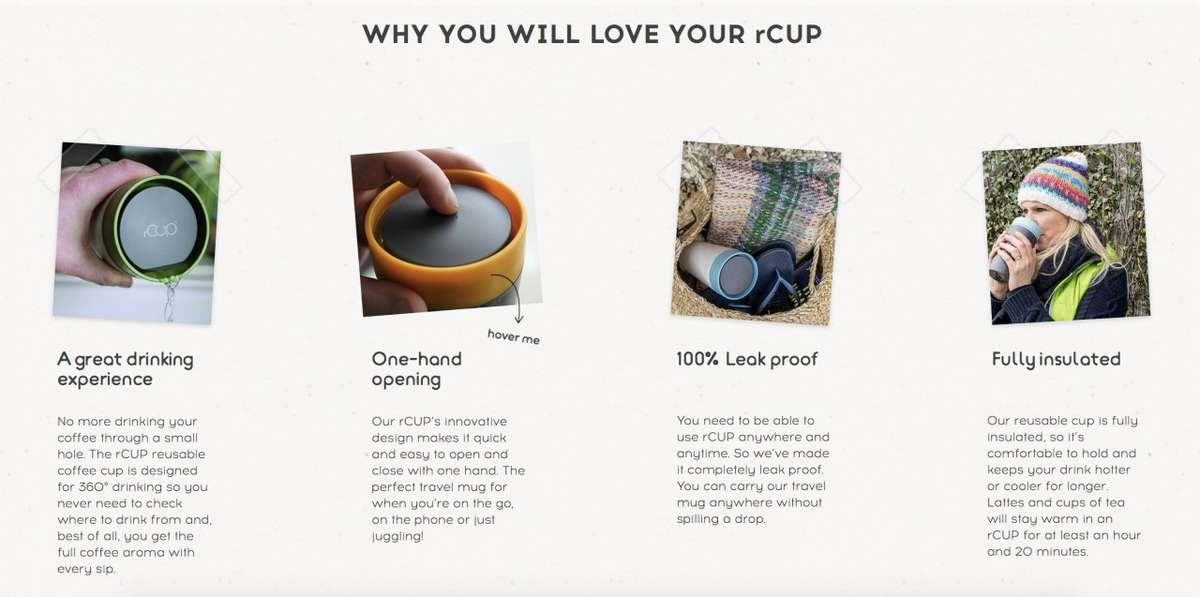 Packaging: Insulated travel mug with 4 option: Cream & Teal, Black & Mustard, Black & Teal, Cream & Green


Ingredients: Recycled paper coffee cups.

Capacity: 340ml.

How to clean: Easy by hand.


Precaution: DO NOT MICROWAVE!


Made in UK.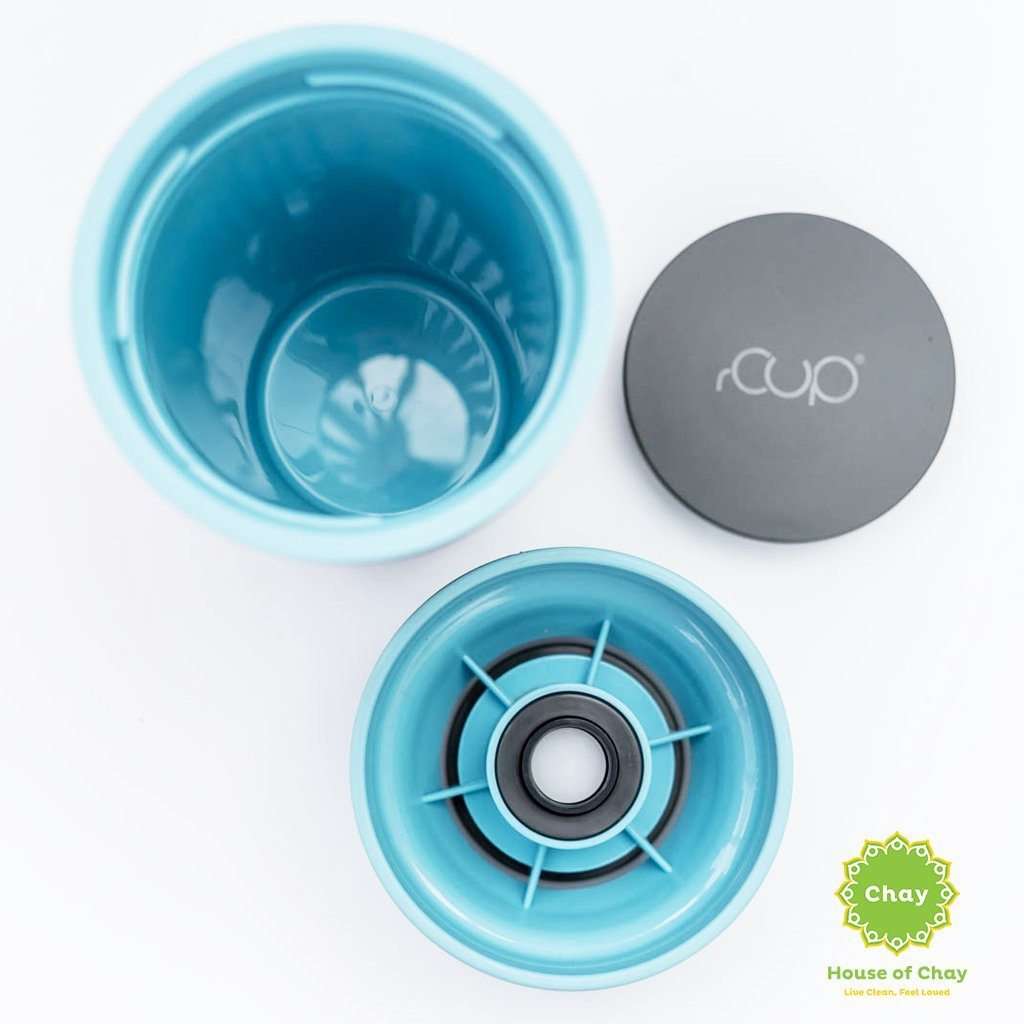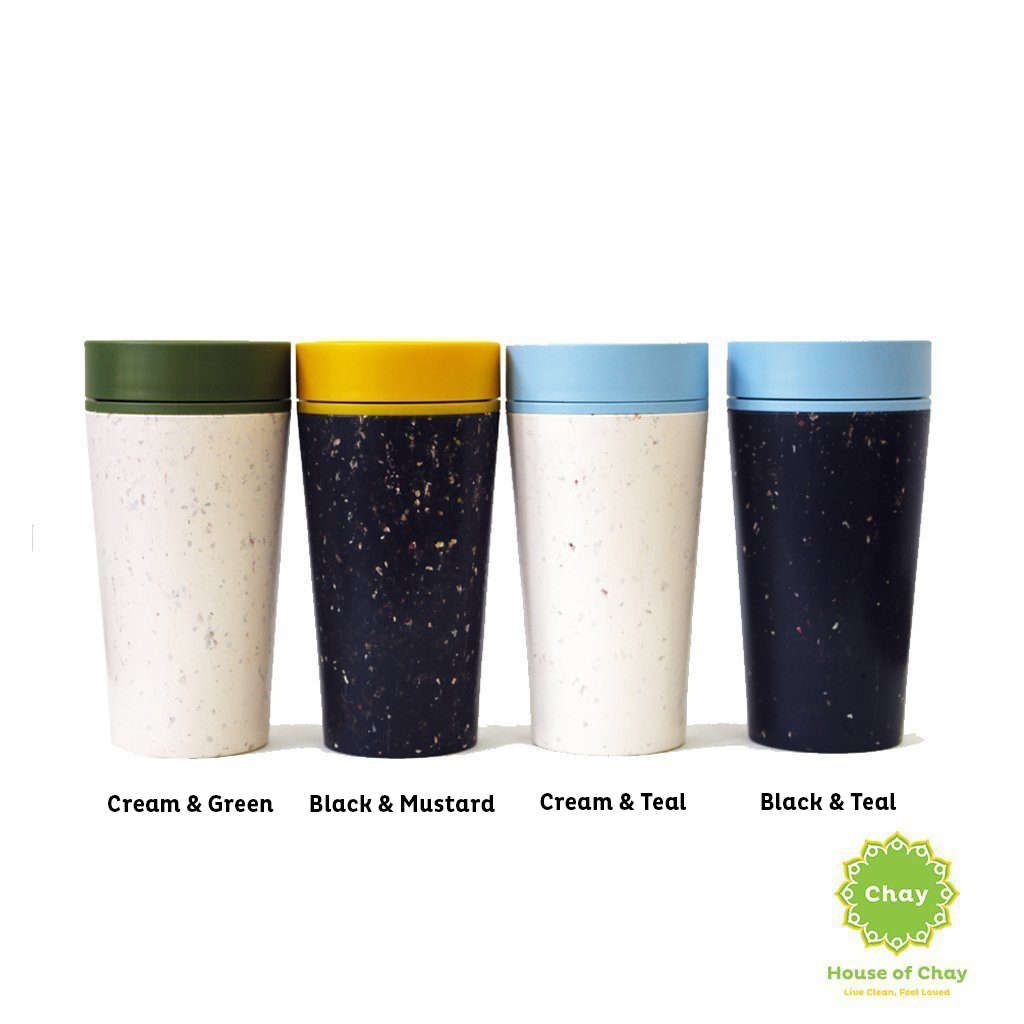 Every minute, one garbage truck worth of plastic is dumped into the ocean.


By 2050, this could mean more plastic than fish in the world's ocean. Reward yourself every day with a decent coffee or tea from the bamboo mug and also help the environment. Join the Zerowaste movement with HOC!


For more information about this product, please
click here.

House of Chay guarantee your 100% satisfaction or your money back!


Frequently Asked Questions about rCUP
1. What size is rCUP?
Our 12oz reusable cup measures 340m with a height of 168mm, and 144ml without the lid. The diameter is 64mm, and the diameter of the lid is 84mm, so they will fit snugly in your car cup holder and under most coffee machines!

2. How does the lid work?
Our rCUP reusable coffee cup has an unique 'push open push
close' lid. rCUP is open when the push button is in its down position and closed when raised. As a guide, when you can see the moulded line on the inside of the lid rCUP is open. You don't have to unscrew the lid to drink from the cup. Just push.

3. The lid won't push down when filled with a hot drink. Why?
Hot liquid over 65°C can cause steam pressure to build-up inside a sealed cup. If the push button becomes stiff to operate due to pressure build up, loosen the lid first to relieve the pressure. DO NOT FORCE the push button as liquid could spurt out.


4. Is rCUP BPA free?
Yes it is. Of course it is! So our reusable cup is not only made from recycled coffee cups, the cup itself can be fully recycled. Luckily, thanks to its life span of over 10 years, this is something for the future. Tea or coffee sounds more like the question for now. Enjoy!

5. rCUP is till predominately plastic and plastic is bad for the environment isn't it?
Thankfully, we are all very aware of the effect plastic can have on the environment when used irresponsibly. Plastic is a great material that has a pivotal role to play in today's society. It can also be widely recycled and reused time and time again: in theory exactly like glass. The issue, and what we need to get better at, is 'capture and reuse' and that is what rCUP is all about. Single use plastic is wasteful and often ends up as litter. We need to switch to robust, long lasting, reusable plastic products that can be recycled time and time again.

6. How do I look after my rCUP so it last as long as possible?
Just try to clean your rCUP after every use. That's all you should need to do. If you need a deeper clean you can put it in the dishwasher
(top shelf).

7. How and how often do I have to clean my rCUP?
rCUP is only watertight if the seals and mechanism are kept clean. We suggest that you clean your cup after every use and can't be held responsible for leaks if foreign objects become trapped in the seal or mechanism. DO NOT MICROWAVE!


8. Can I put your reusable coffee cup in the dishwaher?
Yes you can, but top shelf only. If needed you can pop off the push button for better cleaning access.


9. How about staining?
Most plastics can stain if you put them next to oily or greasy foods in a dishwasher (spaghetti bolognese is the classic!). If this does occur, apply a mixed teaspoon of
baking soda and water, leave for 20 minutes then rinse thoroughly.

10. How long will my rCUP keep my drink warm for?
In most cases your rCUP will keep your drink warm for over 90 minutes - plenty of time, even for the most slow-supping coffee drinker.

11. Can you take the lid apart to clean it thoroughly?
The lid can most definitely be taken off to clean – we recommend the top shelf of the dishwasher if you have one. To take the lid off use the end of a spoon. It's feels tight but it's designed for it and will be fine. To put the lid back on, you need to push hard. First make sure you close/shut the mechanism, then rest on a hard surface and push it back on.
Please watch video below.