Bio Diswashing Liquid Artisan Savonnier 1L
L'Artisan Savonnier Bio Diswashing Liquid 1L: Intended for the manual washing of the dishes, this dishwashing liquid allows a remarkable washing and a good degreasing of all your dishes without attacking your hands!
And thanks to its perfume 100% essential oil, it brings a fresh and pleasant smell!
This washing up liquid has not been tested on animals

It has been formulated exclusively on the basis of vegetable origin. The surfactants it contains are of vegetable oil or sugar origin
It does not contain synthetic dye
It is without petrochemicals
It does not contain synthetic fragrance. Its pleasant smell comes from the essential oil it contains
Its biodegradability is optimal
It is packaged in a recyclable packaging.
Ingredients: water, anionic surfactants (origin vegetable oil or sugar), nonionic surfactant (sugar origin), essential oil, citric acid, salt.
98% of the ingredients are of natural origin. 
10% of the ingredients come from Organic Farming.
How to use: Put a few drops of product on a sponge or in the sink filled with water. 
Rinse with cold or lukewarm water

After use, rinse well and dry your hands
In order to save water and energy while washing efficiently, immerse the dishes instead of washing them with the tap and respect the recommended doses of product. Effective washing does not require a large amount of foam.
Precautions:
Irritating to the eyes
Keep out of reach of children
Avoid contact with eyes
In case of contact with eyes, rinse immediately with plenty of water and seek medical advice
If swallowed, seek medical advice immediately and show this container or label
Made in France.
Certification: ECOCERT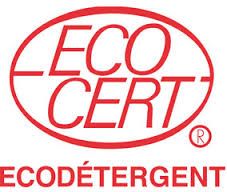 Vegan, not tested on animal, no animal by-product.
House of Chay guarantee your 100% satisfaction or your money back!