Premium Bamboo Toothbrush is an upgraded and eco-version of your normal plastic toothbrush:
Safe: Dental grade, BPA-free Dupont bristles.
Sustainable: Naturally antibacterial, sustainably grown bamboo handle. Do you know that bamboo is the fastest growing plant and requires the least care? Hence bamboo material has less impact on our planet. HOC handle is made from 1 piece of bamboo as opposed to curvy handle which require multiple pieces.
Eco-friendly packaging: Recycled, adhesive-free paper box and biodegradable plant-based bag.
Saving: Bamboo toothbrush lasts as long as plastic version. It is recommended by Dentists that you should change your toothbrush every 3 months.
With modern, minimalist design, this toothbrush is a must-have accessory for your bathroom. HOC toothbrush is approved by Dentists, so your teeth are in good hand ;)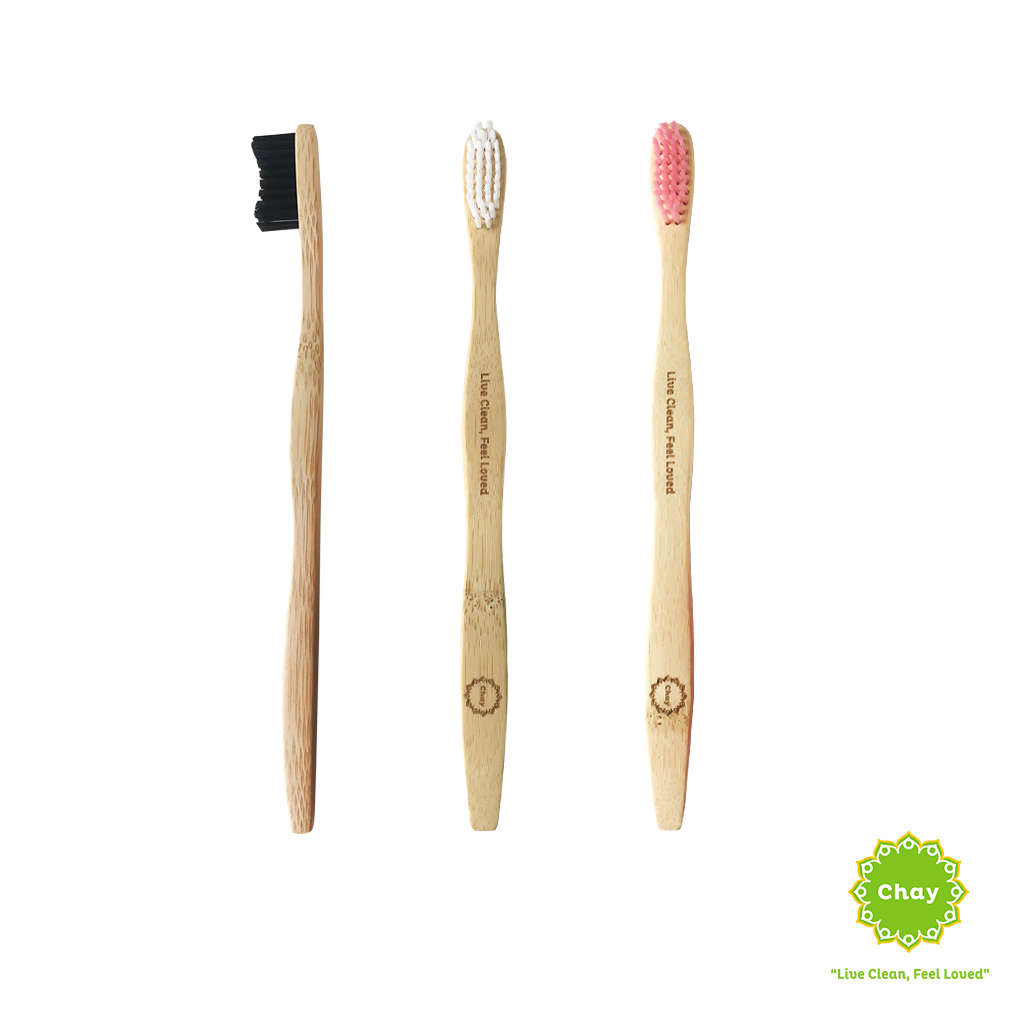 Thank you for being a Conscious Consumer! Every minute, one garbage truck of plastic is dumped into the ocean. By 2050, this could mean more plastic than fish in the world's oceans. Swapping plastic for a bamboo toothbrush is a small change with big impact. Let's join the Zerowaste movement with HOC!


Vegan. Not tested on animals. No animal by-products.


For more information about this product, please
click here.

HOC guarantee your 100% satisfaction or money back!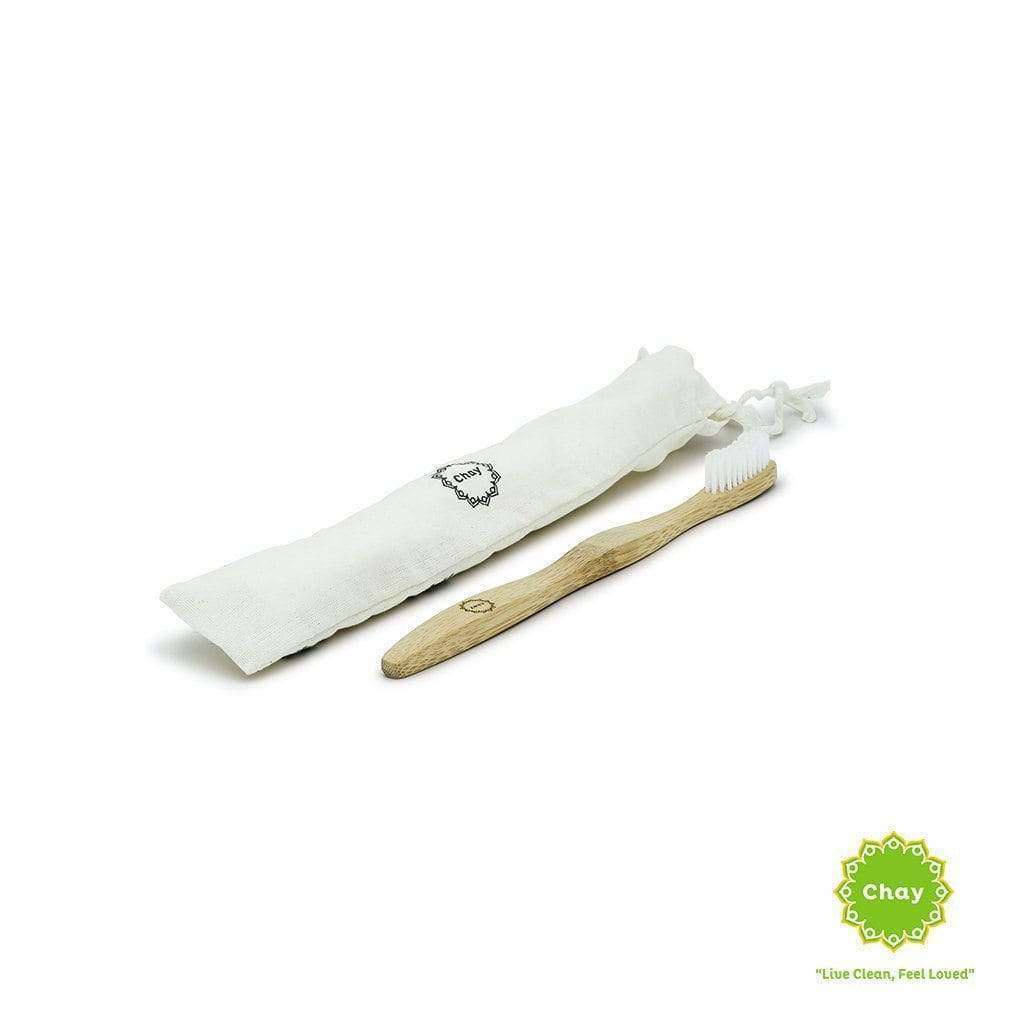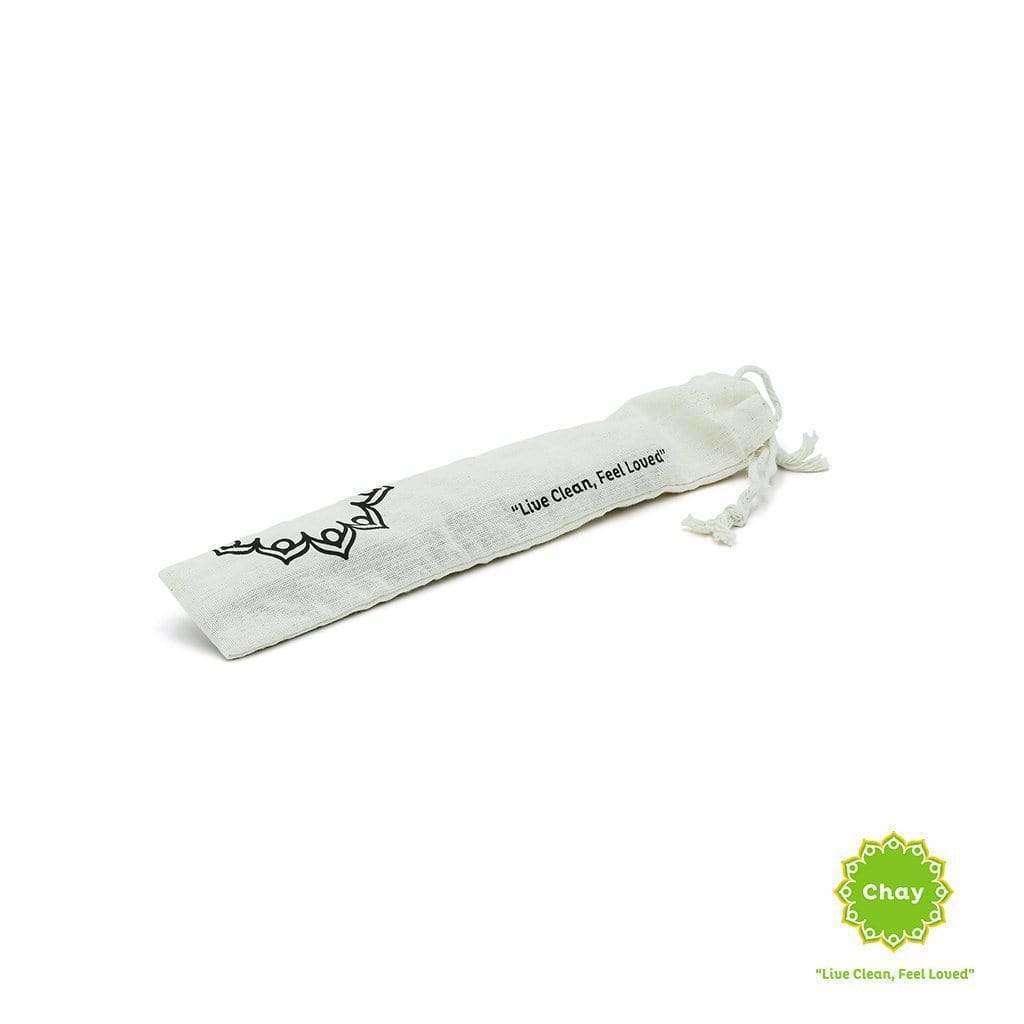 House of Chay bamboo toothbrush's questions

1. Why is HOC still using Nylon bristle?
At the present time, pig hair is the only fiber that can meet the standard for brush and are completely natural. And HOC thinks that no one really wants to brush their teeth with pig hair! Fibers made from a part of plants, such as fibers from castor seeds have a very short life cycle, not safe enough to make brush and they are still not biodegradable. HOC always studies to find a better option for the environment, and will replace brush bristles as soon as possible.

2. Where is HOC dinnerware and drink-ware manufactured? Is it ethically produced?
HOC cup/lunch box/cutlery is designed in Vietnam and responsibly made in Anhui and Guangdong province, China; the factories meet FDA standard to export product to US and Europe.
- 80% of bamboo and wheat straw materials are grown in China, so it is just logical to manufacture our eco-friendly products there.
- We work closely with factories that are focused on eco-friendly and non-toxic products, and we are always looking for ways to make our products more ethically responsible and accountable.

3. Where can I buy HOC bamboo toothbrush?
HOC is an online restaurant and supermarket, you order via our website and HOC will deliver to your place. If you need to see the item, please let us know ahead of time that you will come. HOC office is 135/1/80 Nguyen Huu Canh, Binh Thanh.
You can also buy HOC bamboo toothbrush at the following stores:
The Organik Dalat: 8 Thao Dien st., District 2, HCM
Siêu thị Queenland: 25 Pham Van Nghi st., Tân Phong Ward, District 7, HCM
4. Why is HOC bamboo toothbrush more expensive than others on the market?
The retail price of HOC bamboo toothbrush is 88,000 VND and can be used for 3 months, so it will cost you 900 VND per day to brush your teeth.HOC toothbrush has a dental standard design, slip-resistant brush roll, small brush's head helps clean the molars in the bottom. The handle of the brush is made of natural bamboo so the treatment process is minimized, unlike the round-rolled brushes that need to be joined together. Toothbrush bristle is made from Nylon 6 that completely safe and does not contain BPA. Each brush is packed in sterile bag which is made from completely biodegradable corn flour. With all these highlights, 900vnd for a product that is safe for your health and safe for the environment, we thought it is a very reasonable price.


5. How soft is HOC toothbrush bristle?
HOC toothbrush bristles have moderate softness, which helps brush your teeth with a barely force, to clean plaque without damaging your gums. Did you know that when the bristles are too soft, you will accidentally brush your teeth more strongly than needed, so it damage the enamel and gums.


6. How to properly use the HOC toothbrush?
Bamboo has natural antibacterial property, so after brushing your teeth, you just need to clean the brush and leave it in a dry place.


7. How long should a HOC toothbrush be used?
Follow dentist's advice, you should replace toothbrush every 3 months. After 3 months, tooth bristle brush will accumulate bacteria and lose its elasticity..


8. How should the HOC toothbrush be thrown away after using?
After toothbrush has completed its task, use pincer to remove all the bristles and put them together with recyclable trash. Toothbbrush handle can be put together with organic trash.Remember, toothbrush need to be replaced every 3 months to ensure oral hygiene, however, you can use HOC toothbrush to wash the cup, scrub the bath ... Make the most of it as possible.


9. How does "Swap plastic for bammboo" campaign works?
This is a campaign launched by HOC and implemented with its budget from 2018, with the mission to spread green lifestyle by enabling people to experience HOC bamboo tooth brush.
To participate, you just need to bring 1 new or used plastic toothbrush to the event, HOC will exchange a new bamboo toothbrush for free. It includes online and offline events. Please follow HOC
fanpage
to update on upcoming events.
At each offline event, HOC combines with shops, cafes, schools, offices ... to give toothbrush in place. For online events, it will be imformed on HOC's fanpage or partner fanpage.